About Us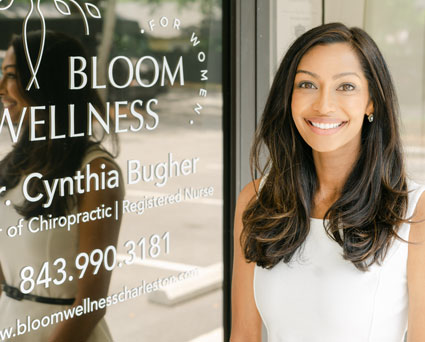 Welcome to Bloom! We are excited to be serving Mount Pleasant, Daniel Island, and the surrounding Charleston community. Our primary focus is on rehab, chiropractic, nutrition, and functional medicine. By offering a variety of services, our goal is to improve the way women approach their overall wellness, provide strategies for preserving their health, and promote physical and mental strength.
We are committed to delivering the absolute best in patient care. While we love to help everyone, our specialty focus is on women's health, prenatal/expecting mamas, postpartum women, and pediatric patients. Through individualized treatment plans, patient education and advanced therapy protocols, Dr. Bugher helps women reclaim their bodies and improve their quality of life.
The mission of our practice is to provide strategies for preserving health and promoting physical and mental strength." Dr. Bugher
A Space For Women
Our mission is to create a space for women to feel comfortable discussing sensitive topics related to their bodies and health, while offering advanced therapies that promote strength and overall well-being.
Though too many people think of health care as sick care, Dr. Bugher wants to change that paradigm. She provides care and resources so that you have the tools and information you need to feel empowered.
Our facility is designed to put you at ease the moment you walk in. When you meet Dr. Bugher, you'll be struck by her genuinely caring manner. It's important to her that she helps you feel comfortable so that you can share your goals and what you hope our services can do for you. You'll receive the time and attention you deserve.
Providing the Best Solution
Dr. Bugher understands that going to a new provider can feel intimidating. When you see Dr. Bugher, she will provide you with honest feedback about the treatment she feels will best meet your needs. If she feels that you may benefit from additional specialties, she will refer you to another provider to assist in your care. Whether she co-manages your care with another provider or simply feels another specialty is better suited to your needs, she will point you in the right direction.
GET TO KNOW DR. BUGHER
Sharing In Your Success
Dr. Bugher stays passionate about her work by hearing about the improvements her patients have made in their lives. She had a patient who was experiencing severe sciatic pain during pregnancy. The patient had difficulty walking, sleeping and taking care of her toddler because of the discomfort. After a few visits involving chiropractic, soft tissue work, and taping, this patient was pain-free. Later in pregnancy, her baby was found to be in breech presentation.
The Webster Technique was used on the patient, along with other suggestions made by Dr. Bugher and this baby was able to be born in proper, head-down position. The patient was thrilled to bring her healthy new daughter in for care after birth, too.
Contact Us Today
If you're ready to get started, call Bloom. Wellness for Women now! Initial consultations are available at our chiropractic office.
---
About Bloom. Wellness for Women | (843) 990-3181