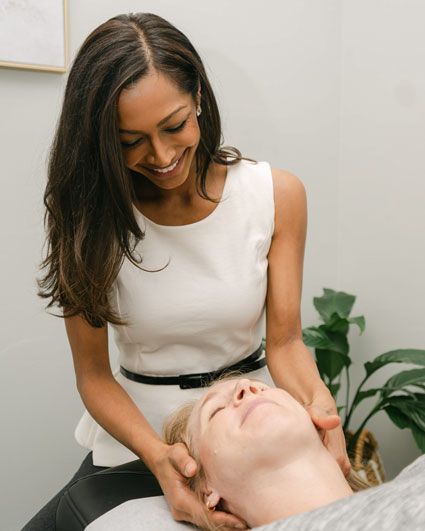 Chiropractic Care
Chiropractic is a noninvasive, conservative approach to help maintain the health of your musculoskeletal system. Though you may associate chiropractic with the back and neck, treatments are incredibly effective at addressing many forms of discomfort. It can also counteract posture dysfunction, which is increasingly common in today's computer-based occupations.
Keeping You Healthy and Moving
As a board-certified chiropractic physician, Dr. Bugher takes a safe, unique approach to keeping your body healthy, moving and pain-free. Since our bodies are a complex, interconnected system, Dr. Bugher combines training in advanced techniques across various rehabilitative disciplines to optimize your individual results.
Having properly-aligned joints will lead having a healthy muscular, skeletal and nervous system. Our chiropractic adjustments and soft tissue techniques are combined to get you the quickest possible results.
Dr. Bugher is extensively trained in several chiropractic techniques, such as Diversified, Gonstead, Thompson Drop, Cox Flexion-Distraction and Activator®. Your Treatment and the techniques we'll use for you is based on your exam findings. We strive to provide the best possible care to each patient while ensuring you remain comfortable.
Chiropractic care can treat a variety of ailments, such as:

Arm and leg pain
Back and neck pain
Carpal Tunnel
Disc herniations/bulges
Growing pains (pediatrics)
Headaches
Knee pain
Pediatric care
Pelvic Pain / Sacroiliac (SI) Joint Dysfunction
Plantar fasciitis
Posture Dysfunction
Pregnancy / Prenatal care
Mom Wrist / Mom Thumb ( De Quervain's Tenosynovitis)
Muscle tension
 Round Ligament Pain
Sciatic Pain / Sciatica
Scoliosis
Shoulder / rotator cuff pain
Sports injuries
Symphysis Pubis Disorder (SPD)
Tennis elbow / tendonitis
TMJ / Jaw pain
Wellness care
Whiplash injury
Call Now
Experience the benefits of chiropractic. Contact us today to schedule your free consultation!
CONTACT US
---
Chiropractic Care Mount Pleasant SC | (843) 990-3181