Postpartum Rehab + Recovery at
Bloom. Wellness for Women
Through evolutionary embodiment practices, we transform pregnancy, birth and motherhood into the ultimate empowerment experience.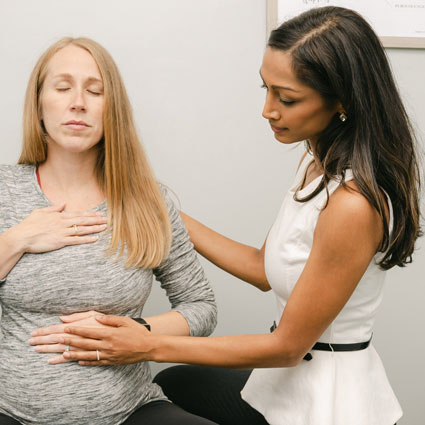 The Bloom Method is recommended by OB/GYNs, medical doctors, midwives, doulas, chiropractors, physical therapists and many other birth professionals. Rooted in evidence-based methodologies, The Bloom Method (TBM) empowers expecting and postnatal mamas with safe and effective workouts. The innovative techniques have been proven to prevent and heal injury-based Diastasis Recti (abdominal/core injury), prevent common pelvic floor injuries, and help you re-strengthen postpartum.
Dr. Bugher is the only licensed provider in the state of South Carolina in The Bloom Method. In addition to this, she has completed a number of other rehab training courses specific to prenatal and postpartum women. Through these methodologies, Dr. Bugher helps keep women moving throughout their pregnancy, and return to exercise after delivery in a safe and effective way.
Who can the Bloom Method Help?
Whether you are preconception, prenatal or postpartum, Dr. Bugher can provide you with the necessary tools to keep your body feeling strong. Her treatment protocols are ideal for those who:
Are looking for safe exercises to perform during each trimester of pregnancy, including immediately postpartum
Wanting to continue with their current gym / workout program safely while progressing through pregnancy
Want to prevent injury to their core and pelvic floor during pregnancy
Would like to strengthen their bodies and reduce discomfort
Are postpartum and would like to return to exercise safely
Love running and would like to be properly assessed and rehabbed to return to their baseline of activity.
The Bloom Method is a unique prenatal and postnatal workout system that was created by founder Brooke Cates in Boulder, Colorado. TBM combines cutting-edge core techniques, breathing practices, functional movements, strength training, Lagree (pilates) based moves, HiiT (for postnatal moms) and groundbreaking philosophies. TBM allows for women to build strength during pregnancy, train their mind and body for birth, and heal faster during their postpartum recovery.
The Bloom Method combined with prenatal chiropractic can lead to a more comfortable pregnancy, optimal pelvic and baby positioning, easier/safer labor, reduced complications, and faster postpartum recovery.
Exercise is essential during all stages of life, however research shows that exercise during pregnancy is a necessity and has significant positive effects for baby and mom during the prenatal time and long after. Benefits of exercise include:
Less pain and discomfort throughout the body during pregnancy
Maintaining a healthy weight during pregnancy, leading to easier recovery and weight-loss after baby is here
May reduce chances of a cesarean birth
Significantly increased rate of recovery after delivery
Can lead to long-term management of weight and reduced cardiovascular disease in older years.
Ongoing strength during pregnancy
Prevention of common pregnancy and birth related injuries
A strong and balanced deep core even as the body changes to support pregnancy
Better endurance and preparation going into their births
A deep understanding of how to correctly engage and release the pelvic floor
Quicker healing post birth and more structural stability during and post pregnancy
A sense of empowerment and control throughout each trimester
Contact Us Today
We look forward to helping you learn more about your body and the Bloom Method. Contact us today to schedule your free consultation!
CONTACT US

---
Postpartum Rehab + Recovery Mount Pleasant SC | (843) 990-3181