Pregnancy Chiropractic at Bloom. Wellness for Women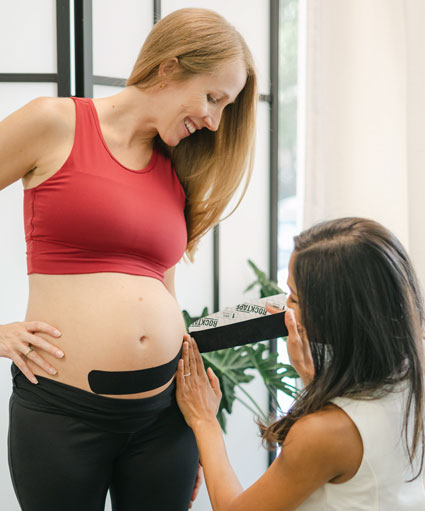 One of our main goals at Bloom is to empower women throughout their pregnancy and help them to maintain or reclaim the health of their bodies. We want to support you through every phase of your pregnancy journey and parenthood transition.
Many women struggle with a number of ailments during and after pregnancy due to the major changes that occur. This may include back pain, sciatic pain, pelvic/pubic bone pain, headaches, carpal tunnel, mom thumb or a general sense of being uncomfortable. These ailments are typically due to continually changing biomechanics, hormones, and spinal curvatures within the body. This ultimately affects joint alignment, pelvic/spinal ligaments, muscles, and other supporting soft tissue.
Chiropractic is a gentle, safe, and effective method to help women manage this discomfort through every stage of pregnancy and after birth. Dr. Bugher has completed countless trainings related to Women's Health including the leading certification for perinatal chiropractic called The Webster Technique. There are many unique treatments and safe approaches to consider when working with this specific population in order to achieve an optimal outcome. The Webster Technique combined with kinesiology taping, manual therapy, and/or The Bloom Method allows women to experience reduced pain, improve labor outcomes, promote better postpartum healing, and can help optimize baby positioning during pregnancy.
Kinesiology Taping during pregnancy can be used in many ways. The "baby belt" application may provide noticeable relief for pubic bone, lower abdominal pain, eases rib discomfort and belly pain. It may assist in making sleeping during pregnancy more comfortable and makes it easier to move. This taping application is typically much more comfortable than a standard belt worn during pregnancy.
Many of Dr. Bugher's sports-specific manual therapy techniques are very effective during pregnancy, as well. She often introduces IASTM (commonly referred to as "Graston Technique") or Myofascial Release to address soft tissue pain including rib pain, groin/pubic pain, hip pain, glute pain or any other muscle or ligament pain that may occur during the pregnancy journey. These techniques can also be beneficial in supporting better healing for cesarean scars. Our goal is to keep our prenatal patients as comfortable and active as possible.
Benefits of Chiropractic Care during a pregnancy include:
Reduced low back, mid back and neck pain (including sciatica)
Reduced headache and jaw tension
Paresthesia – numbness & tingling in the hands, arms or feet
 Improved round ligament pain
Rib subluxations, presenting as sharp mid back pain are common amongst pregnant patients and is often fully resolved with adjustments
Reduce Symphysis Pubis Disorder aka SPD
Resolve Breech & Transverse Alignment using The Webster Technique (a method that does not involve directly moving the baby)
Encourage optimal fetal positioning via pelvic alignment, possibly reducing labor times and improving post-partum healing
Reduced mid back pain & tension due to breast & bottle feeding
Reduced low back aches & pains
Reduced pain due to Mom Wrist / Mom Thumb (De Quervain's Tenosynovitis)
Improvement in carpal tunnel symptoms
Ensures proper alignment of the pelvis as relaxin leaves the body, resulting in less low back pain in the future
Assists in proper engagement of the pelvic floor
Get Started Today
If you're ready to get started, call Bloom. Wellness for Women now! Free consultations are available at our chiropractic office.
CONTACT US
---
Pregnancy Chiropractor Mount Pleasant SC | (843) 990-3181